We can't predict the future... but we can prepare for it
If you're thinking about investing for the future, whether for Retirement, your children's education, or simply for a rainy day, with all the possibilities available to you, you may find the whole idea is a little daunting. Whether you are a seasoned investor or investing for the first time you could be easily put off by the apparent complexities of the investment world, but with the right kind of advice this need not be the case.  Many people think that financial advice is only required by the very rich. However, everyone can benefit from it. Not only can it help you protect and build your assets, it can help you make the most of your investments and help secure you and your family's long term future.
Here at Jordan Financial Planning,  we offer you unbiased and impartial advice on a whole range of savings and investments and answer any questions you may have to identify the most appropriate products to suit your individual needs.
What is a Wealth Management Service?
Wealth management is an investment advisory service that combines other financial services to address the needs of clients. It is a consultative process whereby we your Financial Advisers,  gather information about our client's wants, needs and  then tailor a bespoke investment strategy employing appropriate financial products and services. We'll create a tailored investment plan for you, based on your long-term goals.  We then help you with strategic asset allocation and portfolio recommendations based on your attitude to investment risk appetite and investment goals and capacity. We provide an ongoing regular review services,  with advice and monitoring services to ensure that you, our clients are on track to meet your investment planning goals.
Key questions to consider:
Do you know what your investments are worth today?
Do you know the annual returns on your investments?
Do you know the overall charges you are paying on your Investments?
Do you know how your investments are performing against your goals on an ongoing basis?
Do you know how much tax you pay on your investments?
Do you know if your investments are invested in a tax efficient way?
Do you know what asset classes you are investing in?
Do you understand what your attitude to investment risk and capacity?
If you were able to answer "Yes" to all the above questions do you think that its very likely you would reach your financial goals in the long term?
Thinking of being a DIY Investor?
Do you have the necessary experience to make qualified investment decisions ?
Do you have the time to spend on carrying out all the research and dealing with all the paperwork?
Do you have the discipline to be objective about your own state of affairs?
Do you have the skill or understanding to take the risks and responsibility of planning your own financial future?
Do you have the time or knowledge to keep up to date on the ever changing legislation and tax issues that effect your investments?
What does Jordan Financial Planning do?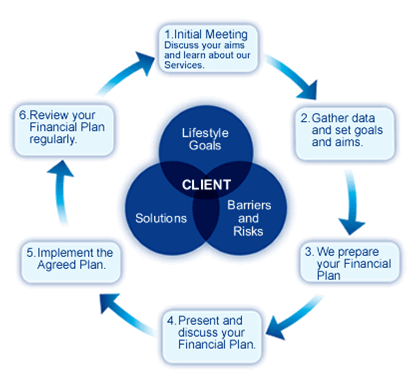 CONTACT US TODAY TO ARRANGE A